Should You Get LED Lighting for Your New Glass Item?
October 1, 2016 | By Mark |
Whether it's a home bar, a restaurant, a small neighborhood tavern, or a homeowner's kitchen, who wouldn't want their bar tops, countertops, and other surfaces to impress friends, family, customers, and other passersby? Of course, choosing fashion over function normally means spending an exorbitant amount of money, which just may not be in the budget for some.
At CGD Glass Countertops in Toronto, Ontario, Canada, we believe in a different approach. We want customers to be as happy as possible with our glass products, which include items like backsplashes, countertops, glass tabletops, bar tops, partitions, sinks, panels, doors, and more. That's why we allow our customers to customize the look of their glass item from start to finish.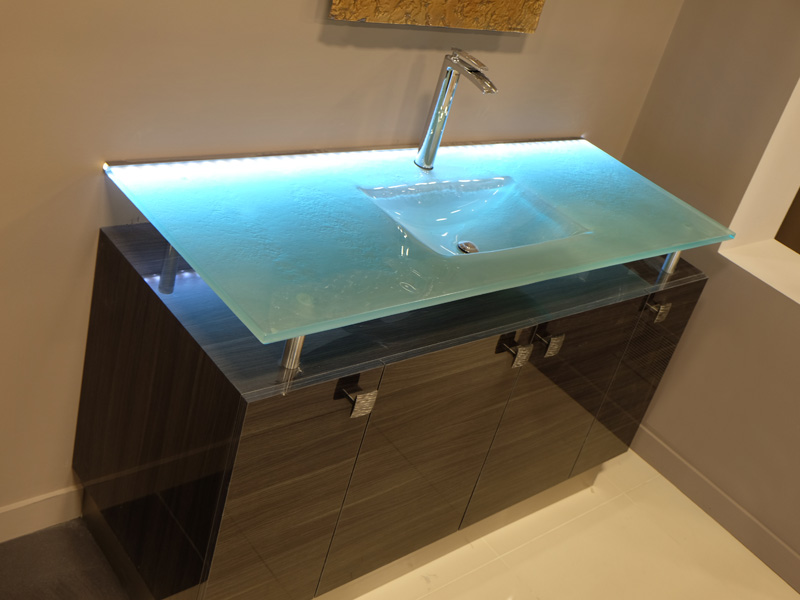 We offer countless ways to make a glass accent piece completely unique. Perhaps you want to get it backpainted for a funky dash of color. Maybe you want a pale aqua blue glass base. You could be into textures, choosing to get the glass carefully etched so its surface looks like shooting stars or calm ocean waves. All this is possible at CGD.
One of our favorite features we offer is backlighting some of our products, namely our counters and other tabletop surfaces, with LED lights. LEDs are smart and sustainable. Despite that these shine far brighter than traditional light bulbs, they use less energy since their wattage is lower. Not only that, but these lights last far longer than traditional bulbs, making them a time-saving, environmentally friendly option for your home or business.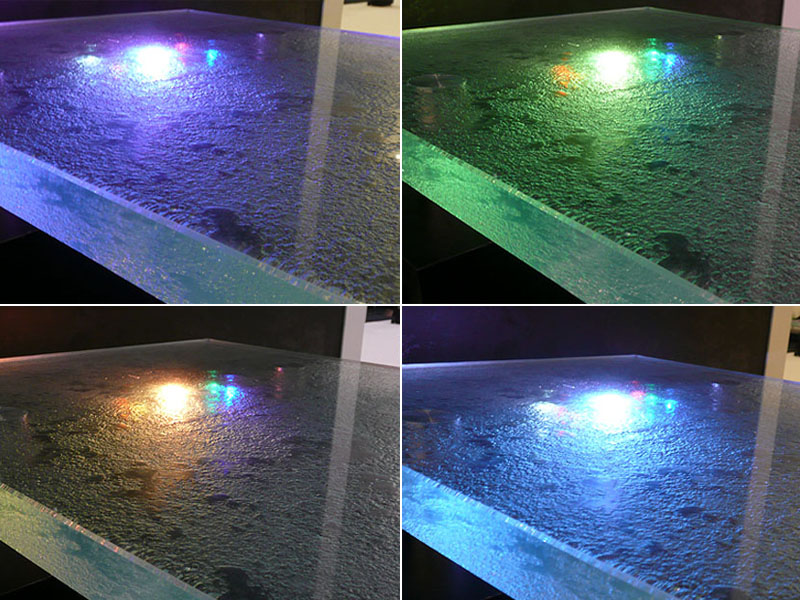 With LED lights from CGD Glass Countertops, your options are nearly limitless. Do you prefer the simplicity of white LEDs? We have them in stock. Do you wish you could illuminate your counter with some color? Choose from hues like blue, green, or red. Can't narrow it down to just one color? You don't have to! We also have color-changing LEDs that gradually switch between those three shades.
Imagine what LEDs could do for your glass bar top, countertop, or tabletop. Imagine inviting people over for dinner or to your home bar and surprising and impressing them with your light-up surfaces. If you're a bar or restaurant owner, think about the revenue potential. Adding a soft glow to a bar or tabletop with LED lights is certainly one way to get people talking. Even in today's technological society, word-of-mouth should not be discounted since it's still a very useful way to get customers.
If you are a fan of textured glass, as mentioned above, LEDs are a great choice. These light up beneath the glass surface, allowing the rough or soothing textures to really stand out. If you get special edging work done on your glass accent piece (which is another of the services that CGD gladly offers), these will also be much more visible.
At CBD Glass Countertops, we make it easy to order a glass accent piece your way. Simply send us a drawing or blueprint or just send along the room measurements. From there, we'll get back to you with a quote. Contact us online through our mailing form or give us a call today.