Glass Bar Top Ideas
August 15, 2014 | By Mark |
Glass bar tops offer a refined elegance that can be utilized in either commercial or residential projects. Their eye-catching beauty and unique design truly sets glass bar tops apart from other conventional bar tops. As a business owner, it is important to distinguish yourself from competitors. Glass bar tops provide the perfect opportunity to make your bar stand out from other generic countertops like stone or other surfaces. With glass countertops, guests and customers are guaranteed to stop and stare at the elegant sophistication of your bar. Here at CGD Glass Countertops, we allow you to create and design your own glass bar countertops according to your specific wants and needs. Our customers have the option of customizing thickness, glass tints, textures, edge finishes, surface treatments, colors, LED lighting, custom substrates, and hardware finishes. Here are some stunning examples of glass bar tops we have produced for recent clients:
Residential:
This beautiful residential bar top was created with stunning "white onyx" glass. It has 1 ½ thickness and has LED lighting built into it that adds to its already eye grabbing beauty.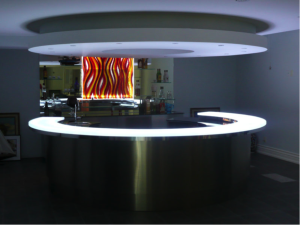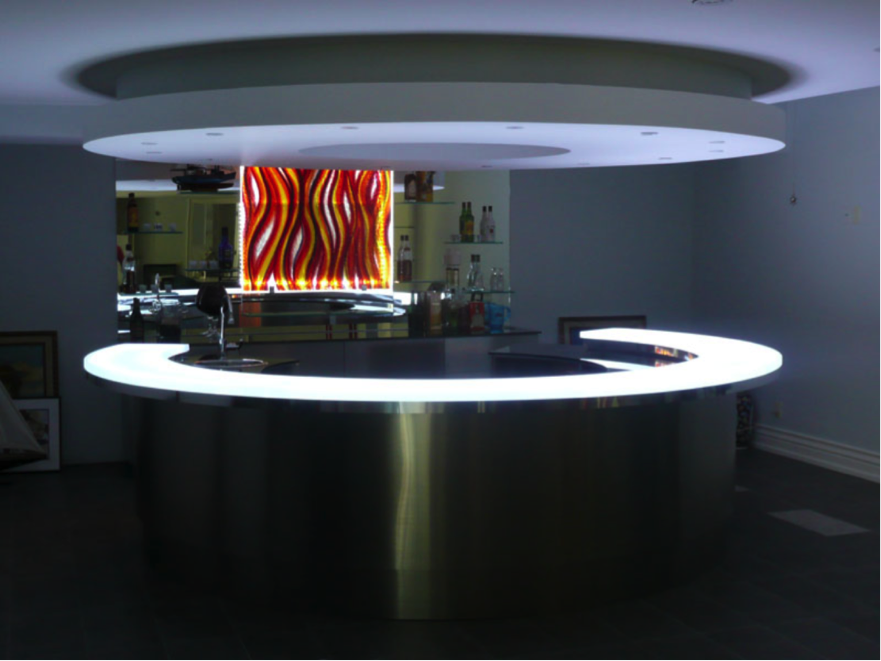 This elegant home bar top is fully custom with colored "rusty gold" glass and ¾" thickness. The red brick inlay provides a warm and cozy feel that will surely make your guest feel right at home.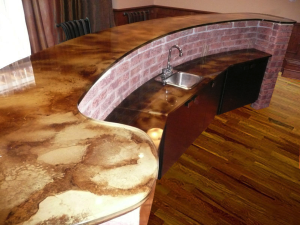 This stunning outside glass bar top is perfect for homeowners who want to host their guests outside. This glass bar top was designed with Aqua Clear glass and has 1 ½" thickness. Glass bar tops are a great option for any outside patio because they are easy to clean and are extremely hygienic.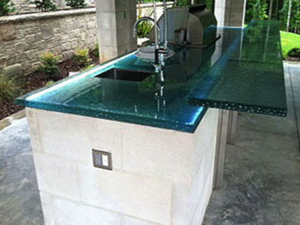 Commercial:
This incredible decorative bar has glass countertops and custom glass brick inlays. This countertop was created with Aqua Clear Glass and has a 1 ½" thickness. It also includes textured edges for an even more unique look.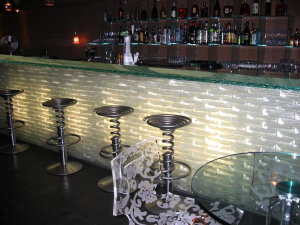 This gorgeous glass bar top is totally unique and really grabs the attention of customers. The glass bar top includes custom Aqua Clear Glass, 1 ½" thickness, melting ice texture, and eye popping LED lighting.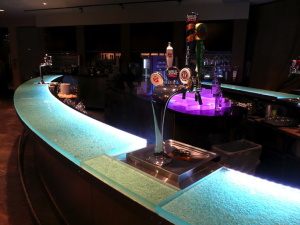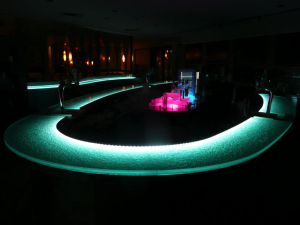 This dazzling glass bar top made this already good-looking bar into a work of art. The glass bar top includes Aqua Clear Glass, ¾" thickness, melting ice texture, and LED lighting. It offers a stunningly unique area for your guest to sit down and enjoy their drinks and food. Just take a look at the detail of the glass bar top (pictured below).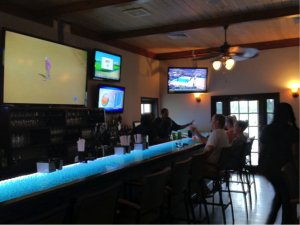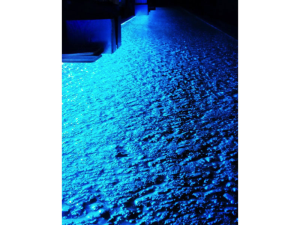 Here at CGD Glass Countertops, we specialize in creating and manufacturing beautiful glass countertops, glass backsplashes, glass sinks, as well as: decorative glass partitions, panels, and doors. Everything we produce is one-of-a-kind, unique, and custom made for each individual customer. We strive to produce only the highest quality products and provide the highest level of customer service in the industry. Please call us today for your FREE CUSTOM GLASS QUOTE!
Call 416-398-9733