January 2, 2018 | By Mark |
Over the past two months of the holiday season, you probably spent quite a lot of time getting reacquainted with your kitchen. Between basting turkeys, baking cookies, prepping sides, and making other meals, you've been in the kitchen almost more than any other room in the house.
While of course all the hustle and bustle of holiday cooking can be stressful on anyone, don't you wish there was an easier way to prepare food during the holidays and any other time of the year? There is: with a kitchen island.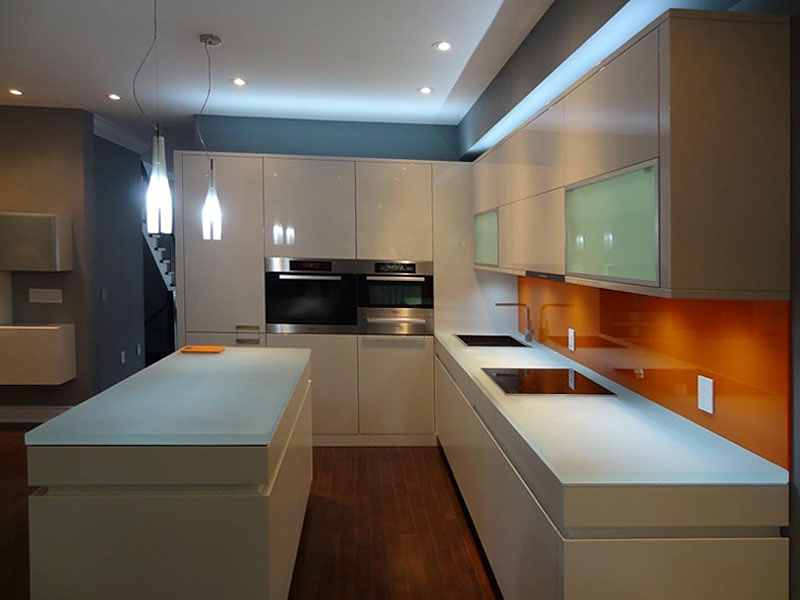 Here at CGD Glass Countertops, our kitchen islands are designed to be gorgeous and functional. You get all the beauty of glass that our customers love with the lasting durability of each glass product we custom-design.
For instance, if you already have countertops from us, we can match these to your kitchen island. If you want your kitchen island to stand out and be its own unique element, we can do that as well.
Here are some of the options you get to choose for your customized kitchen island:
The glass thickness and measurements
The glass type, including Ultra Clear (translucent glass base) or Aqua Clear (pale blue glass base)
The glass texture, such as Linear, Pixels, Desert, Avalanche, Galaxy, Flow, Stream, Sandstorm, and Melting Ice, with some available with Ultra Clear or Semi-Frosted textures
The edge work, including Fire Polished, Satin, Flat Polished, Textured, or Brushed Satin
The surface treatment, with options like Stone Wash, White Onyx, and Green Onyx

Backpainting

colors (which are optional), such as Sky Blue, Multicolored, Copper Light, Bronze Semi-Frost, Rusty Gold, Charcoal Gray, and Jet Blue Metallic
Substrates, which are also optional
LED lights, including single-color lights or multicolored lights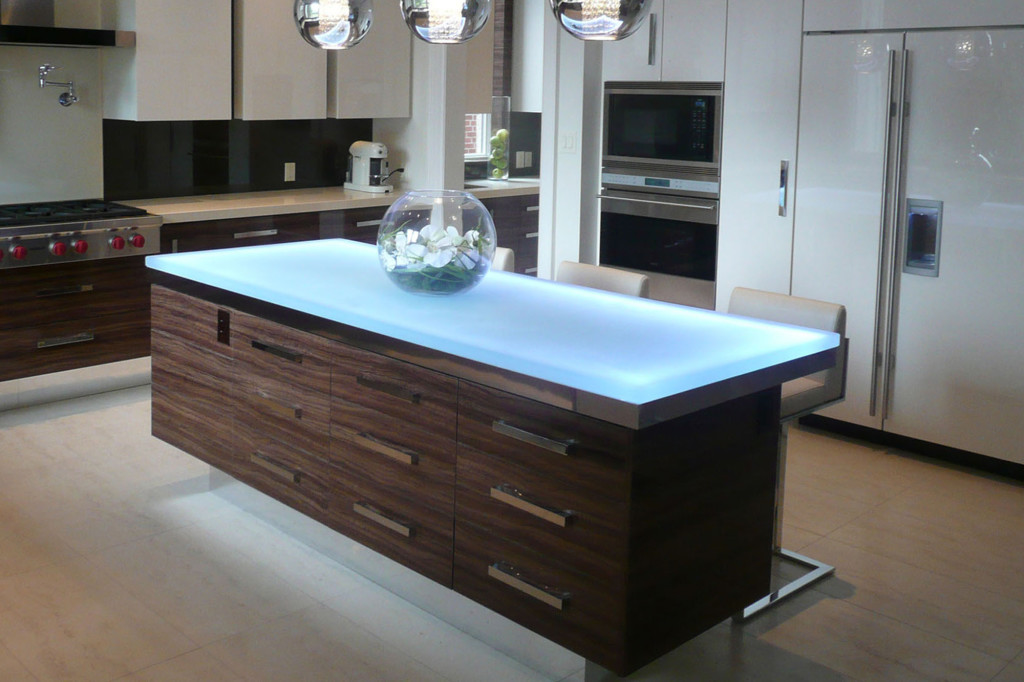 Imagine preparing a big meal with your kitchen island designed according to all the options above. You can even get it backlit so your kitchen glows at night.
Of course, January has just started, which means you may be a little reticent to spend money right now. We get it. If you're still on the fence about getting a kitchen island, we hope these reasons will convince you:
Glass kitchen islands are easy to clean, especially when you order one from CGD Glass Countertops. You just need soap, water, and a soft cloth for wiping down the island.
Since our glass is such high-quality, it comes free of crevices where food debris and bacteria can hide. That makes your kitchen island a hygienic surface in which to prepare food.
A kitchen island gives you more counter space, which is especially handy if you have many people in the kitchen at once or you're making a big meal.
By getting a glass kitchen island installed in your home, you can increase the curb appeal of your property.
Are you convinced now? We hope so. If you want to get started designing and planning your dream kitchen island today, our staff at CGD Glass Countertops is ready. Contact us online and we'll work on putting together a quote.