Raised Glass Countertop Overview
September 16, 2014 | By Mark |
Glass countertops have been becoming more popular among many homeowners today. Their beautiful design and ease of maintenance make glass countertops a perfect choice for anyone trying to add something unique and beautiful to their homes. Recently, more and more homeowners have decided to install Raised Glass Countertops because they offer an opportunity to remodel your current kitchen or bar without having to re-do what's already there. This also makes raised glass countertops cost effective because you don't have to update your entire kitchen. Don't be intimidated by the thought of adding glass countertops. CGD Glass offers a simple and easy way to add a beautiful and unique addition to your home without the hassle of remodeling your entire kitchen. Here are a few examples of different types of raised glass countertops.
1. Substrate Raised Glass Counter Top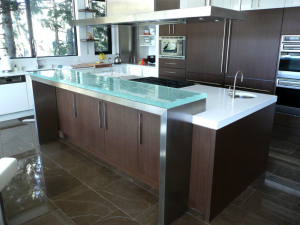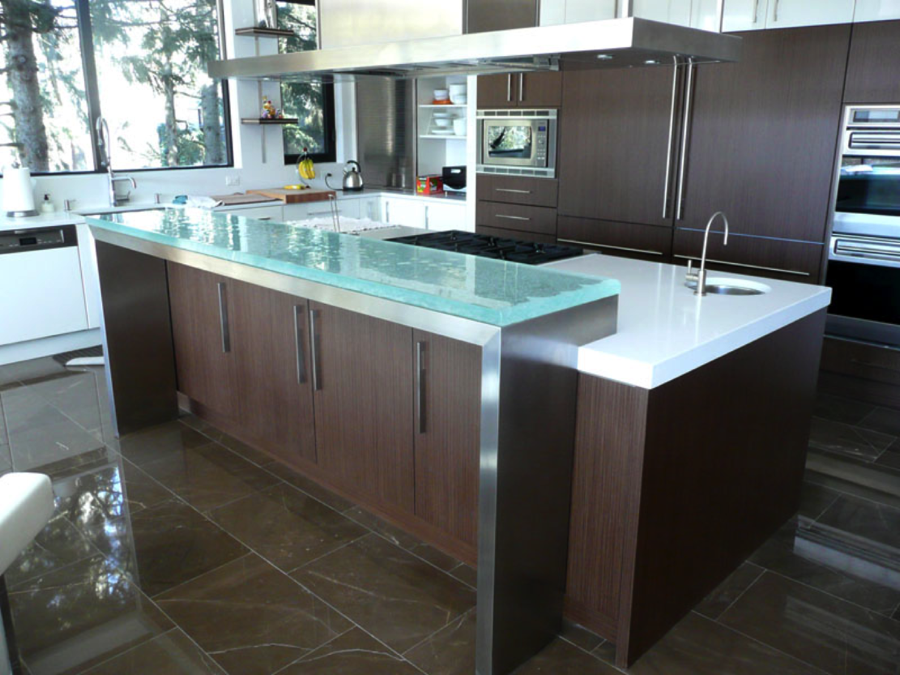 Looking for a new look in your kitchen? Substrate Raised Glass Counter Tops might be the perfect solution for you. They are easily installed by adding the glass countertop to your current countertops. Substrate raised glass countertops are also fully customizable to your exact specifications. In the example above we are using a stainless steel substrate that was installed to slightly raise the glass countertop and also extend it outward to add some sitting room in the kitchen. You have the option of choosing the thickness, textures, and clarity of the glass. You also have the choice between which substrate you want used (i.e. stainless steel or wood). Substrate Raised Glass Countertops add a beautiful touch to any kitchen without cluttering your current design.
2. Raised Glass Bar Tops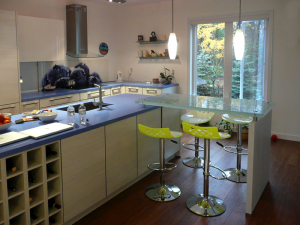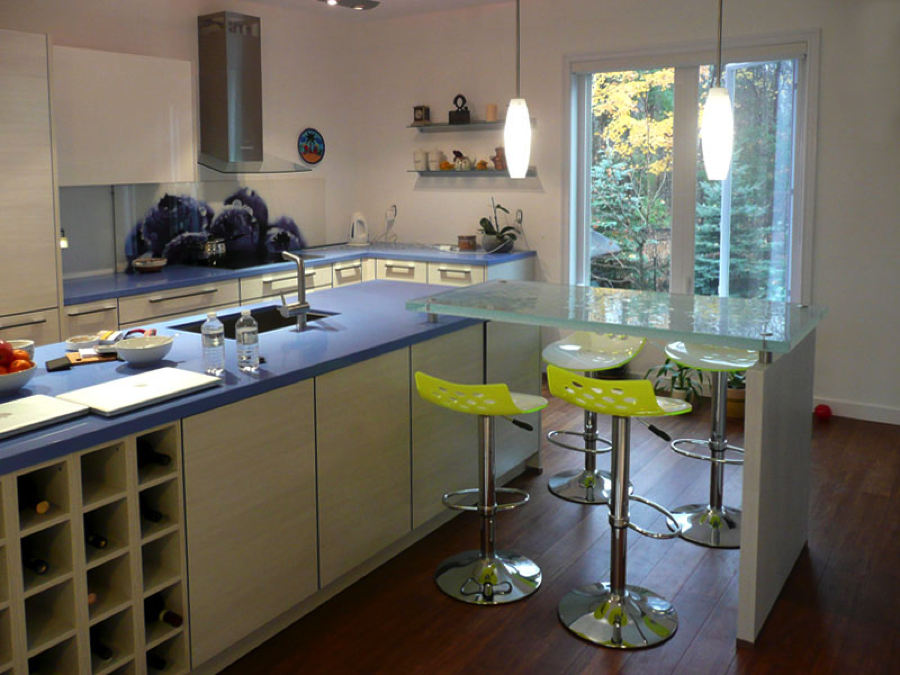 Raised glass bar tops offer a beautiful way to add uniqueness to your kitchen while adding surface area space. Many homeowners really like this style of glass bar top because it can be added as a simple extension on top of a peninsula. This makes installation much easier and less time consuming. The added surface area of your raised glass bar tops will provide you with additional seating and will allow you to host more people. In the above example we have added a simple glass bar top extension to an existing kitchen island.
3. Standoff/Angle Bracket Raised Glass Countertop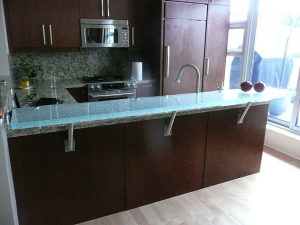 Standoff/Angle Bracket Raised glass countertops utilize a stainless steel bracket that attaches to your current countertops. This is the simplest way to add a raised glass countertop to any surface in your kitchen. Standoff/ Angle Bracket Raised countertops can easily be added to your existing marble or granite countertops and provide an incredible way to add a unique touch to your kitchen without breaking the bank.
Here at CGD Glass, we offer a variety of different raised glass countertops. We are determined to provide you with the highest quality products and highest level of customer satisfaction. We would love to answer any questions you have. Please Contact Us Today. (416)-398-9733