Back to School Time Means More Cooking: Does Your Kitchen Need an Upgrade?
September 1, 2017 | By Mark |
Summer is finally over. While that means no more beach days or vacation hours, for families with kids, it also means back to school time.
You may have gotten through the summer by cooking in the backyard on your grill or going out to eat more often. Now though, the kids will need packed lunches and homecooked, hearty meals so they have the fuel to excel in school.
The start of the school year (and the fall season) is the perfect time to assess your kitchen to decide if you need an upgrade. Here are some areas to start with.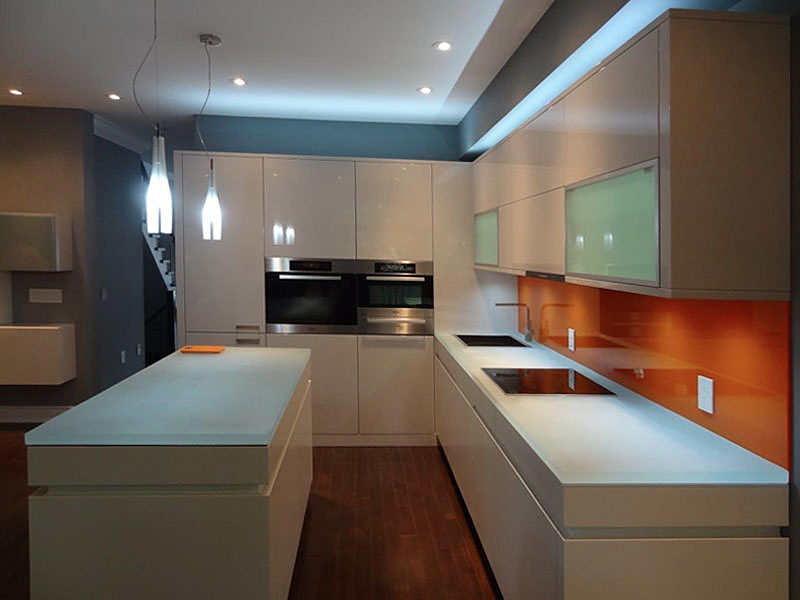 Countertops
When you get busy in the kitchen, your countertops are often the first to show signs of wear and tear. Whether it's stains, chips, or pockmarks from years of cooking and cutting, it's okay to be tired of your countertops.
With glass countertops, you won't have to worry about the above issues. Glass is generally stain-resistant; when you make a mess, simply wipe it up with a damp paper towel. There are no crevices or holes for food and bacteria to hide.
By upgrading your boring kitchen countertop to a glass countertop, your whole kitchen will look much classier.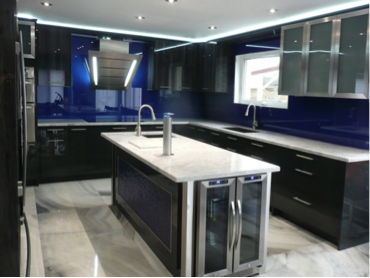 Backsplashes
Cooking can be messy. Luckily, backsplashes exist to catch water and cooking liquid so your walls don't stain. The problem is though, metal and wood backsplashes don't hold up well. Metal can start to rust and corrode, and wood can become warped and soggy. Yuck.
Glass backsplashes, available in a variety of patterns and colors, are a great alternative. These will never rust or warp, making glass a durable choice for the kitchen. If you notice your backsplash has gotten a little dirty, again, use a wet paper towel and some cleaner to wipe away stains.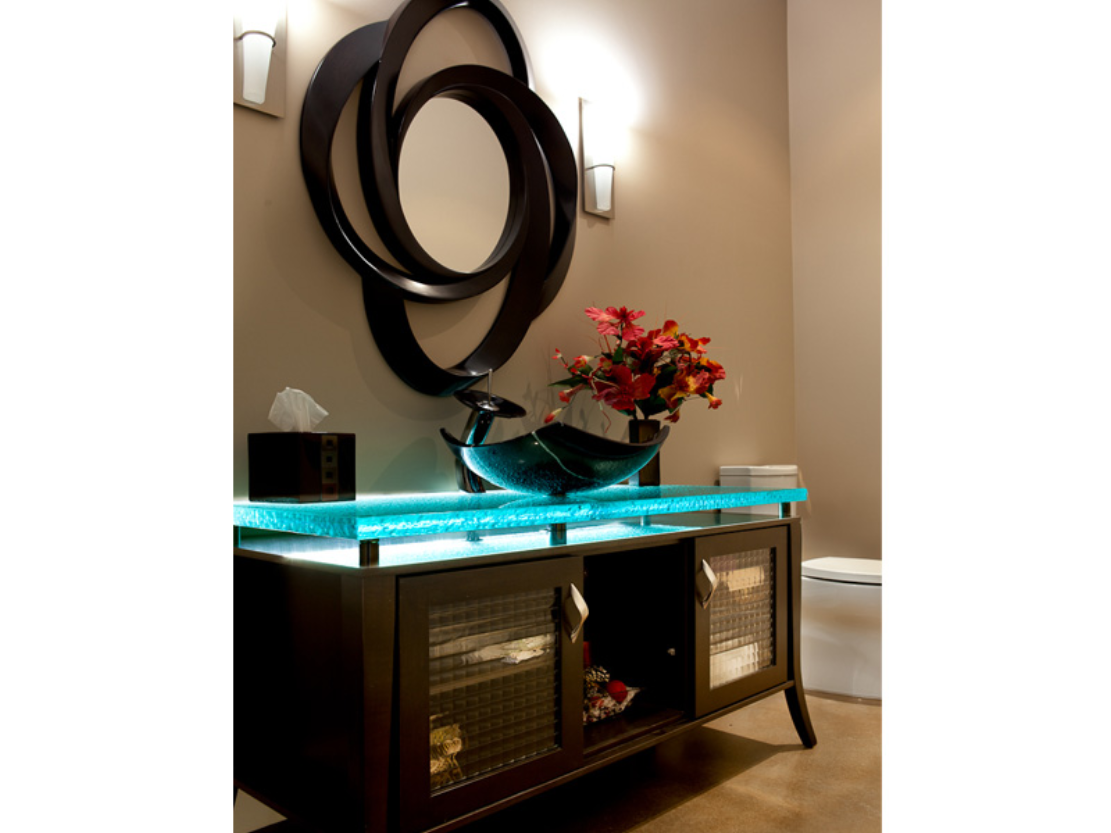 Sinks
The sink is one of the most important parts of your kitchen. This is where you store dishes and clean them. Since sinks are so important, it's no wonder they're so expensive. That may have prevented you from upgrading your old, brittle metal sink even though it's been there for decades.
Treat yourself. A glass sink is easy to clean and adds so much sophistication to your kitchen. With such a beautiful sink awaiting you every day, you almost won't mind having to do the dishes. Almost.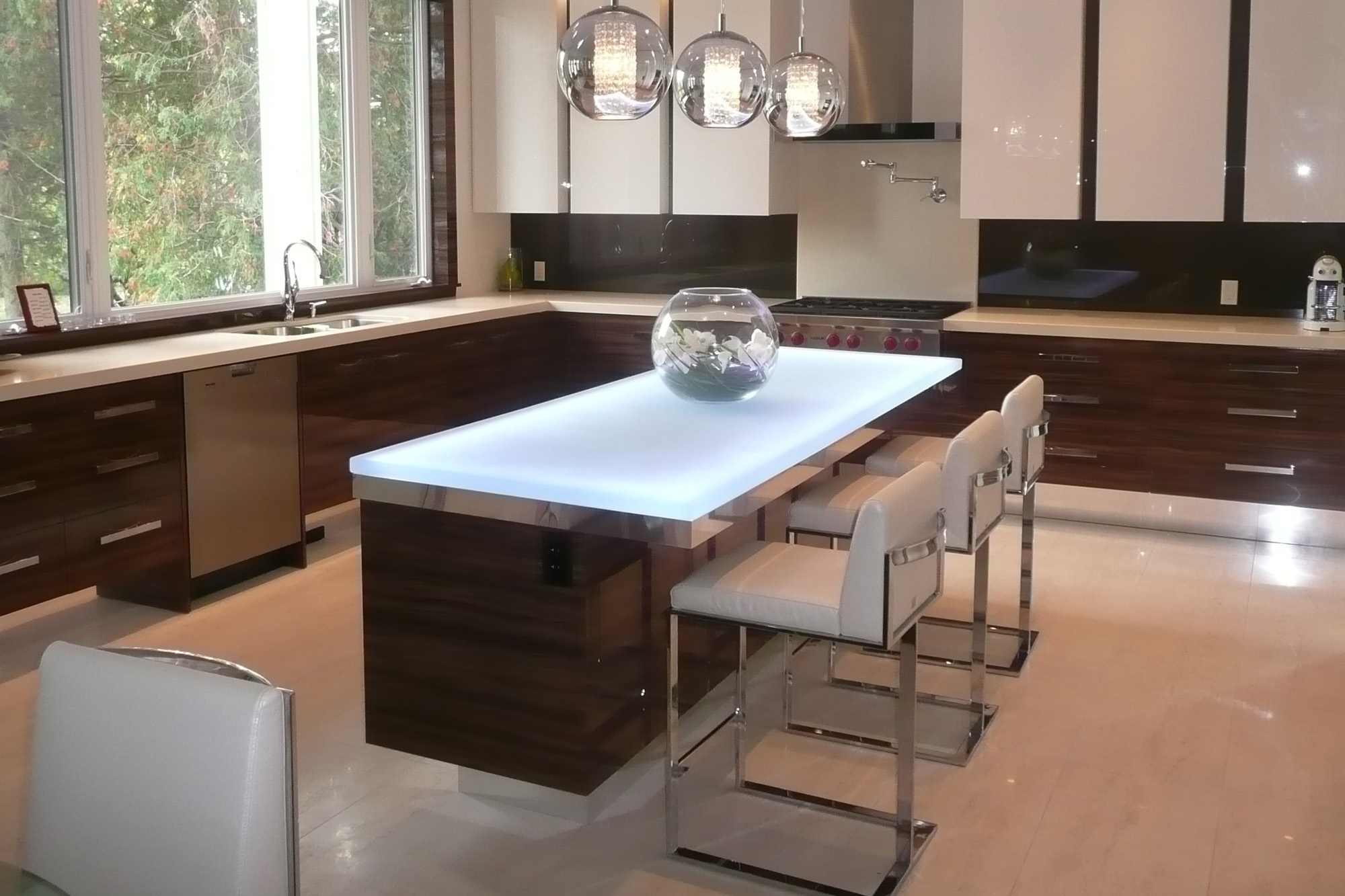 Kitchen Islands
As a luxury item, your kitchen island should be a standout part of your eating space. Yet if you choose a kitchen island made of materials like wood or metal, the island may be looking a little worse for wear. Instead of being a source of pride like it should be, you feel embarrassed whenever you walk into the kitchen and see your sad kitchen island.
It definitely sounds like it's time for an upgrade. A glass kitchen island can often be designed and decorated to your exact specifications if you shop with the right glass manufacturer. This means you can select colors that match your kitchen, adding a cohesiveness to the room.
If you're ready to redesign any of these parts of your kitchen, give us a call at CGD Glass Countertops. Based in Toronto, we specialize in customized glass items for residential and commercial use. Contact us today to learn more or get a quote.