Considering LED and RGB Lights For Your Glass Countertop
August 1, 2014 | By Mark |
Before starting to think about incorporating LED (cool-white, single color) or RGB (multicolored) lights into your project, let us tell you a little about them. First LED (Light-Emitting Diode) was discovered in 1907 by H.J. Round, who was from Britain. In 1927 Oleg Losev, from Russia, reported the creating of LED. However, it was not until 1962 that the first visible-spectrum (red) was made by Nick Holonyak Jr. Followed by his student, M. George Craford, who invented the yellow LED. The first high-brightness blue and cool white LED was developed by Shuji Nakamura in 1994.
Cool white LED is the one used in most of our projects. As you can see in the two pictures below, the same cool white LED lights can create two different looks. Both of these glass countertops have the same texture to them, the only difference is the glass itself. On our website you will notice two options of glass : one being "Ultra Clear" (1), and the other "Aqua Clear" (2). Because the "Aqua Clear" glass itself has a blue-green-aqua tint, by using the LED lights, you are able to accent that color even more. Both of these countertops have a "melting ice" texture and cool-white LED lighting.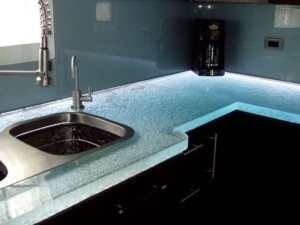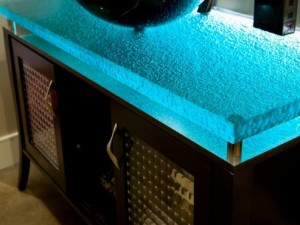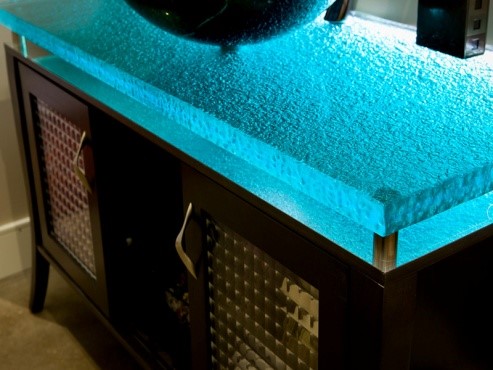 If you prefer an even softer look, then a "White Onyx" glass would work well for you. As you can see by the pictures below, it gives a nice look to brighten up any room. Because of the finish on the glass, the LED cool white lighting gives it a matte and light feel, highlighting the furniture and the rest of the room, while creating a relaxing atmosphere.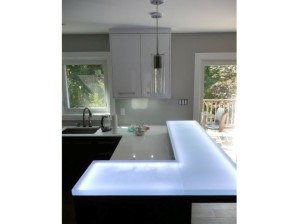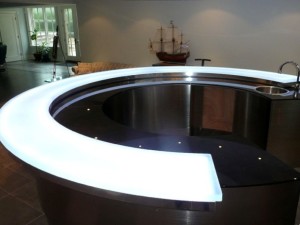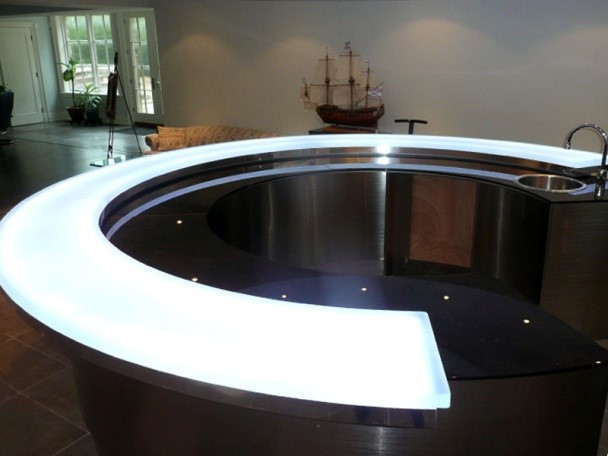 So, what is the difference between LED and RGB light options that we offer? As mentioned before, LED lighting comes in a cool white color. RGB LED lighting consists of three primary colors: red, green, and blue. The biggest advantage to RGB lights is that you no longer have to decide on one color for your glass project. Between the three primary colors of RGB lighting, when they gradually interchange, it makes so many different shades of turquoise, purple, orange, green, yellow, etc. With a special remote that comes with the lights, you have an option of either having the colors circulate, or pick just one and stop at that. All of the pictures below are taken of the same project. However, because of the beauty of the RGB lights, the customer now has a variety of all these different colors, not to mention, many other shades the lighting creates in between.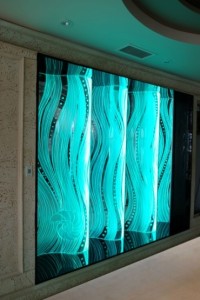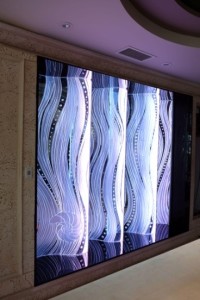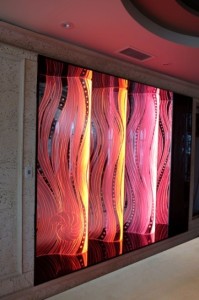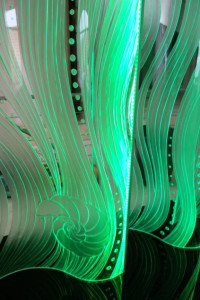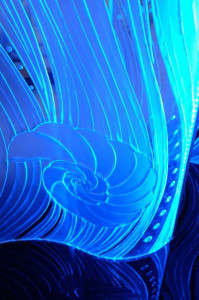 So what are some other great things about LED and RGB lights? One of the biggest pros to them is the lower energy consumption. Our clients often ask us, what do we do when we have to change the lights? Well, most likely, you won't have to! LED lights are recorder to have a typical lifetime anywhere from 25,000 to 100,000 hours; however, heat and circumstances can either extend or shorten that time.
Installing LED lights into your countertop/bartop/glass shelves/ statues/ etc. can most definitely brighten up your project and create an intriguing, dramatic effect. Depending on the "feeling" you want in the room, you have some options that will help you create the desired look. To create bright, colorful atmosphere, use RGB lights. To have a more calm and relaxing atmosphere, you can use "White Onyx" glass with LED lighting. To create a "water" feel for a bathroom, or a bar at the pool house, choose "Aqua Clear" glass with "melting ice" texture and LED lighting.
Please do not hesitate to contact us via our website, e-mail, or by phone in order to discuss what will be the best option for you.