How are Glass Countertops Made?
August 28, 2014 | By Mark |
Glass countertops are gaining significant popularity among homeowners today. Their stunning look and durability provide a perfect option for someone who is looking for a unique way to remodel a home. Homeowners also like the fact that glass countertops are customized to their exact specifications. Each countertop has a unique touch, texture, thickness, color and shape. But how are glass countertops made?
Thermoforming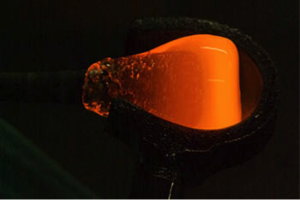 Glass countertops are made using the thermoforming method. Thermoforming is one of the oldest and most simple processes for forming raw materials. The thermoforming process uses heat and pressure to transform raw materials into custom three-dimensional shapes.
At CGD we start with the raw materials that are then melted onto a unique, custom-made mold. This mold is based on both the specifications of the client and the type of project, which holds the desired pattern. After being molded the raw materials are rigidified according to the chosen textures and then properly ensiled.
Water-Jet Cutting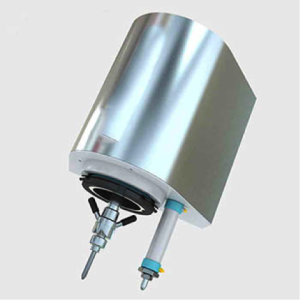 After that process, the glass is then treated on a CNC machine using a waterjet. The water jet cutting process utilizes a high pressure stream of water and leaves a smooth and precise surface cut. Water jetting is a highly technical cutting process. It's precision allows the machine to cut exact parts. An abrasive grit can be added to the water, which allows the water jet to cut hard materials.
CNC Water Jets allow us to form the glass into almost any shape you could imagine, from our world famous glass countertops to backsplashes & much more. We can then use the same water jet to apply our client's chosen edge work, holes, notches, & surface treatments.
Backpainting & Lighting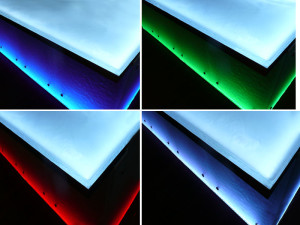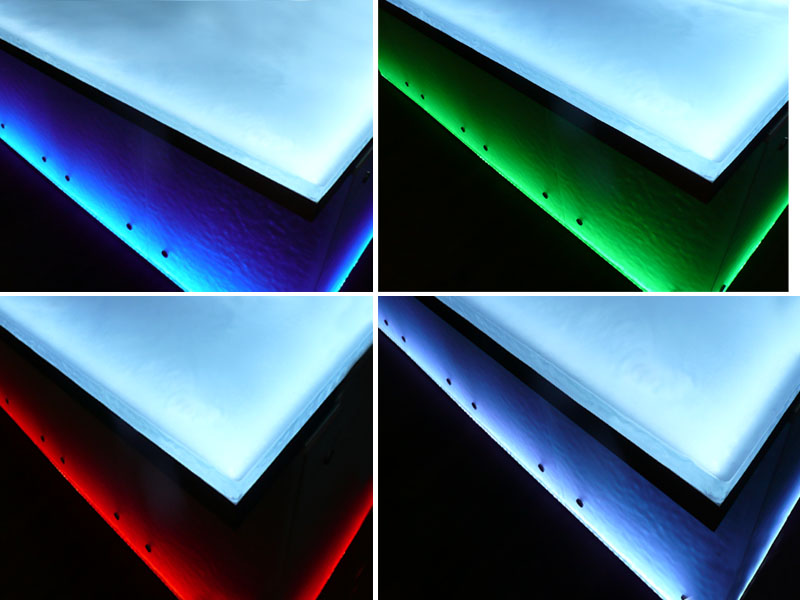 After thermoforming and using the waterjet to create the final shape of the countertop we then give our clients the option of adding a backpainted color or LED lighting for an added effect. We are always sure to apply the backpainting evenly for perfect consistency on the countertop. In regards to LED lighting, we give our clients the option of either a cool white LED or color changing LED RGB lighting which are always installed flawlessly.
The Finished Product!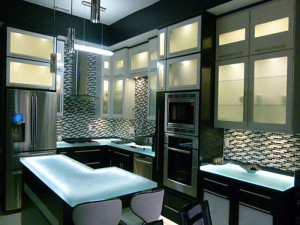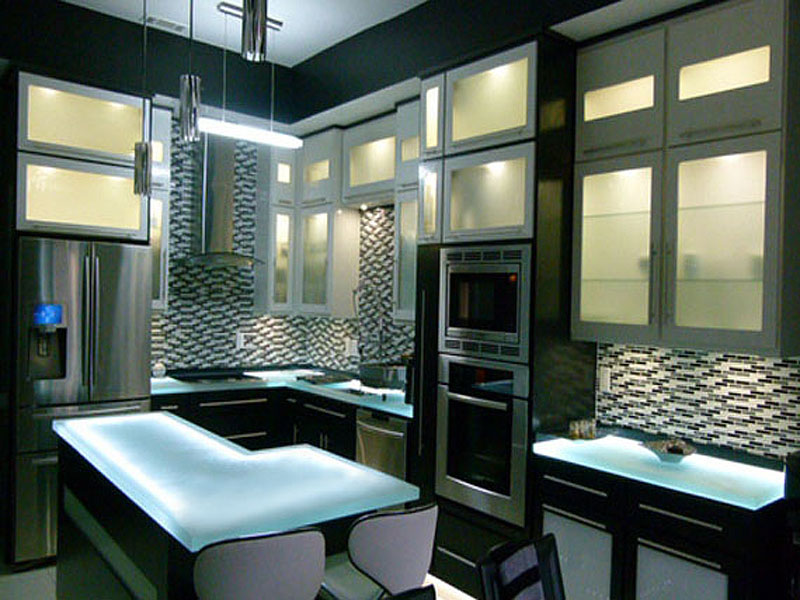 That is how our glass countertops are made here at CGD Glass. All of our glass countertops are custom made according to your specifications and are always guaranteed to impress even the most refined modern taste! If you have any questions or would like to know more about our glass countertops, Call us today at 416 398 6890, or drop us a line at info@cgdglass.com!