Six Great Backsplash Ideas for a Cleaner Kitchen in 2018
February 5, 2018 | By Mark |
As much as you try to stay clean when cooking, depending on what you're making, sometimes it seems next to impossible to avoid messes. When these messes happen, you probably scour the countertop and your sink. What about your walls, though? Cooking liquids of all kinds sometimes splash their way up there, too.
Depending on what your wall is made of, these stains may clean out easily or not at all. For instance, wallpaper may be ruined if you leave a dark stain on there for too long, and paint can be discolored, too.
To protect your walls in the future, glass backsplashes are the way to go. These simply require soap, water, and a soft cloth to remove liquid stains. Cooking just got a whole lot easier.
If you're looking to customize your glass backsplash, be sure to contact CGD Glass Countertops, a glass manufacturer in the Toronto area. With so many options at your disposal, how do you choose? Check out these six great glass backsplash ideas.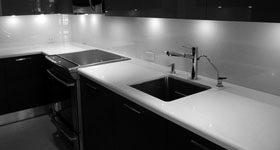 1. Single Sheet Glass
This large, transparent backsplash is designed, cut, and fitted to your exact kitchen wall measurements. It will fit beneath cabinets and pantries and above the sink. This way, no matter how much of a cooking frenzy you whip yourself up into, you know your walls will be covered—literally.
2. Glass Tiles
Small glass tiles can be arranged much like the sheet glass idea above, or into a rectangular shape that keeps your walls safe from splashes during your cooking adventures. These tiles can be multicolored and placed in no particular order to bring out the artfulness of your kitchen walls.
3. Iridescent Tiles
With this backsplash, some or all of the tiles are iridescent so they catch the natural sunlight in your kitchen and shine. Tiles in beachy colors like coral, seafoam green, pale blue, and even nude will give your kitchen a tropical edge.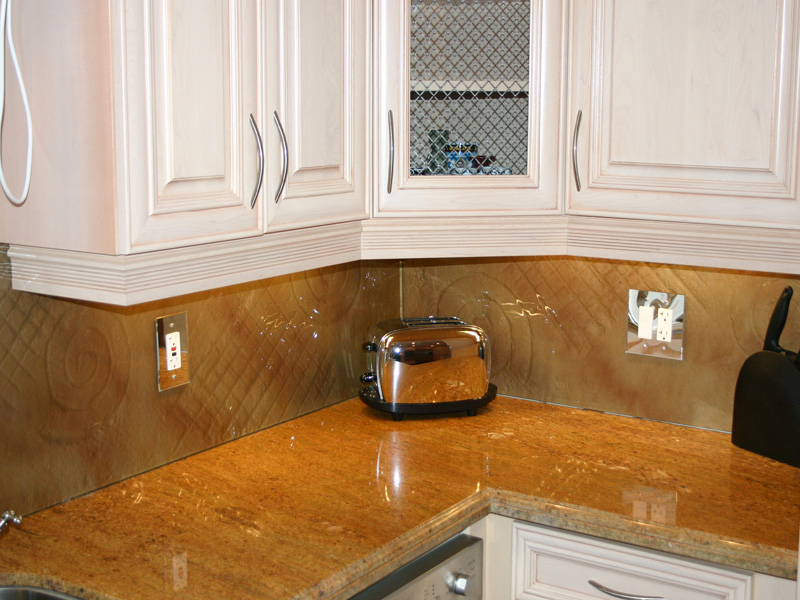 4. Glass Starburst
If you really want your kitchen walls to stand out, a glass starburst is the way to go. The texture, shape, and design of this glass encompasses most of your kitchen wall, but you won't be worried about how well this backsplash functions when it's so pretty to look at.
5. Sheer Textured Sheet Glass
If you like the coverage of sheet glass but find it to be a little boring, try sheer textured sheet glass instead. The textures, which you can choose when you work with CGD, add marvelous detailing to otherwise plain walls.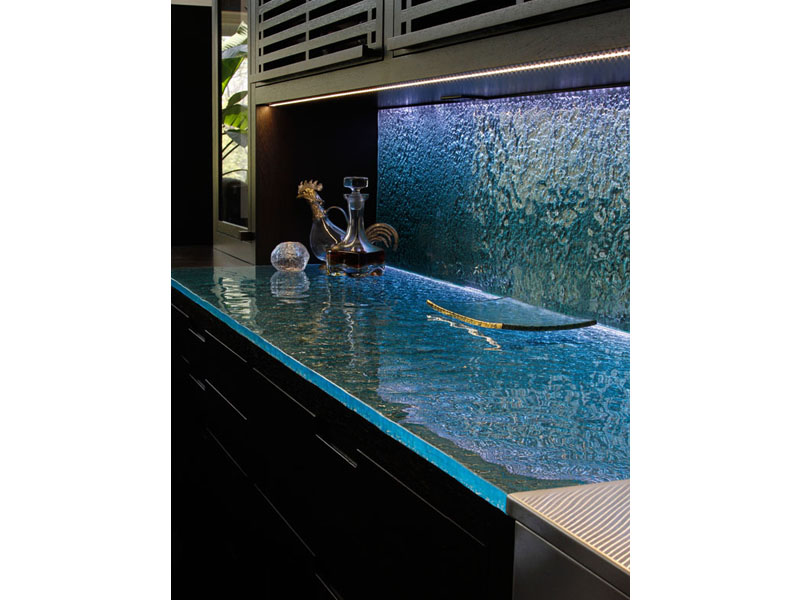 6. Backlit Sheet Glass
Here's another way to decorate sheet glass backsplashes: with LED backlighting. That's one of the many features offered at CGD Glass Countertops. Whether you want white lights, multicolored lights (like green, blue, and red), or even alternating lights, we can get your kitchen glowing every day and night.
Have you decided on your new kitchen backsplash? Once you're ready to get started, visit our website and request a quote online via our email form. We look forward to working with you!