November 30, 2014 | By Mark |
If you are thinking of getting a Glass Table Top and need specific colors, opacity or thickness?  Then you need to find a place that will do Custom Glass Table Tops such as CGD Glass. Our selection of table tops can fit anywhere in your home such as Kitchen, Bathroom, & Living Room just to name a few!  Here is a list of questions you should ask yourself when choosing a Custom Glass Table Top.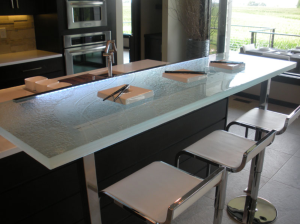 Choosing Dimensions
What shape and size is your Table Top?
Take some measurements and figure out how much space you can take up to comfortably fit your table top.
Is it a Triangle, Square, Circle or Rectangle?
Keep a shape in mind when measuring the dimensions.
What thickness do you want it to be?
Pick a thickness of ½", ¾",1", or 1 ½"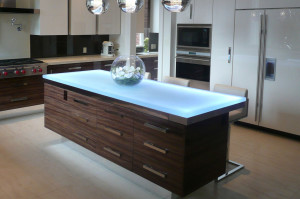 Choosing a Glass Type & Texture
What type of glass fits my home?
Aqua clear is an ocean like clear glass that matches nicely with wood and antique, or red colors
Ultra Clear is a Pearl White clear glass that goes well with blues and silvers, lighter colors
What kinds of Textures are there?
There are many different kinds of textures to choose from such as Melting Ice, Sandstorm, stream, flow, galaxy and many others. The main difference between the textures is the amount of grain or frost that each one has. Some textures look wavy, and others jagged or straight lines too.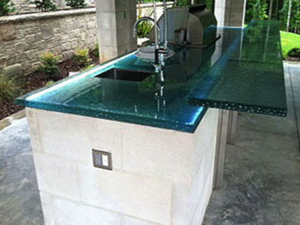 Choosing Edge Work and Surface Treatment
What is Edgework?
Edge work is the unique style edge that you pick for your glass table
What types of Edge works are there?
There are Textured, Satin, Brushed Satin, Flat Polished, and Fire Polished
What is Surface treatment?
A unique customization for glass to give the glass a stylish color or texture
What kinds of Treatments are there?
You can choose from Clear Surface, Green, White, Texture, Stone Wash, or Colored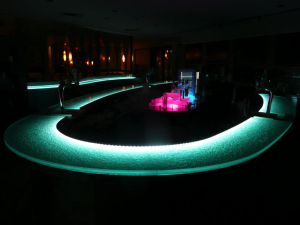 Choosing Your Color
What colors are available?
Colors are available from the Benjamin Moore Color Chart, but there are also Opaque, Rusty, and Translucent Colors you can choose from!
What are the Opaque Colors?
Opaque colors can come in Amber, Antique, Copper, Gold, Dark brown, White, Blue, Black, and Charcoal Grey
What are the Rusty Colors?
Rusty Colors come in Black&Copper, Rusty Gold, Gold&Black
What are the Translucent Colors?
Translucent colors can come in Amber, Blue, Bronze, Brown, Bronze, Clear, Copper, Dark Blue, Gold, Green, Grey, Multi-Colored, Orange, Red, Ultra Clear, White, and Yellow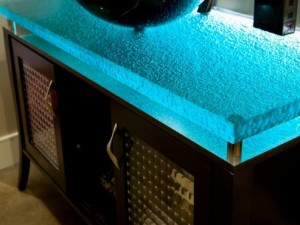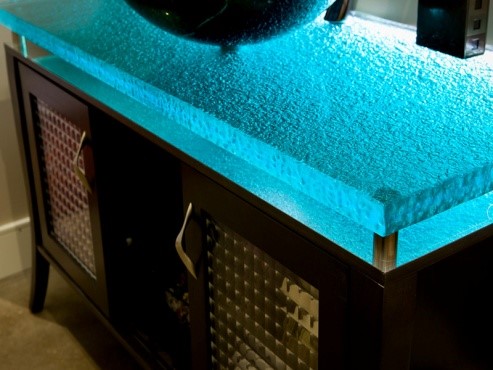 Choosing Your Substrate and Lighting
What is a substrate?
A substrate goes underneath the glass in order to hold the lighting and the glass table
What does it do?
It reinforces your glass table top and adds a layer to extend tables or raise them
What exactly is the lighting?
You have the option of picking some lighting to put underneath the glass within the substrate in order to add a modern look to your glass table top
What colors are available?
You can pick color changing lights, white LED's, or Static Colors such as Blue Green, Red and White