Glass Versus Granite: The Facts
July 17, 2017 | By Mark |
When it comes to buying new countertops, kitchen islands, and other common household items, you probably spend a lot of time debating the material that will be used. After all, there's so much to think about, so you want to be sure you made the right choice.
First, you have to think about the looks of the material. Is said material chic and appealing? Then you should check its durability. How many years will it be before you have to get a new countertop or other surface?
Of course, you will have to clean these surfaces, so keep that in mind, too. Some materials are magnets for stains and stickiness while others wipe up clean easily. Last, you have to think about your budget. The more luxe the material, the more it will cost.
Many people, when thinking about remodeling their countertops, get stuck choosing between glass and granite. Which one is the better value for your money? We'll explore that now.
Granite
Looks: Known for its high-quality looks, granite may be various colors, including brown, black, white, gray, copper, or a combination of these. However, granite only comes in colors available from nature.
Cost: Granite is generally a more expensive material. If you're thrifty, it is possible to find deals. If you find you're overwhelmed by the price of granite and you're trying to stick to your budget, get a countertop made of another material (like glass) with granite accents.
Cleaning: You can clean granite with a household cleaner or soap and water. That said, if there are chips and crevices from years of wear and tear (more on this in a moment), it can be harder to reach into those crannies and clean efficiently.
Durability: Granite, for its cost, is not the most durable material. As the homeowner, you may have to reapply a sealant every few years to prevent dings and scratches. Such damage is mostly inevitable, though. If you have a kitchen spill, you may also permanently stain your granite surface.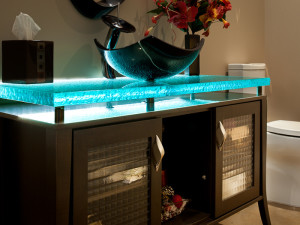 Glass
Looks: Above, we mentioned how granite is only available in natural hues. That's not so with glass. You can get this translucent if you prefer, or glass may be colored or painted any color of the rainbow. There's no limit to the color palette you can choose.
Cost: Glass can be costly, but not if you buy it from the right manufacturer. At CGD Glass Countertops in Toronto, Ontario, Canada, we present our quotes upfront so you know just how much you'll spend.
Cleaning: Cleaning glass is fast and easy. Like granite, you can use soap and water or a household cleaner and wipe the surface. Make sure to wipe in one direction to prevent streaks.
Durability: Glass is incredibly durable. It will not scratch or chip, even with years of daily use. You can't stain glass; if you spill something, you can simply swipe it up right away with a paper towel or cleaning rag.
The choice is clear. Glass is the better value for your money. If you want a new glass countertop, call us at CGD today.