December 31, 2014 | By Mark |
Thermoformed glass is glass that has been through a unique process of being heated to a temperature where it becomes flexible and then molded in order to give it shape or texture. It differs from glass blowing in that it is not shaped by rolling and blowing hot air but rather by using a mold and is better suited for making flatter objects, such as glass countertops, tables, & related materials.

Here are the steps taken to create thermoformed glass:
A mold shape is made created to the specifications of the desired piece.
Raw glass panels are cut to a size slightly larger than the mold
Glass is cut further in order to take shape of the mold
The glass will be painted on and given a design
Once the glass is cut and decorated it is brought to a kiln
In the kiln it is put on top of its relative mold
The kiln is heated to an extremely high temperature (About 843 degrees Celsius)
The high temperature softens the glass
The glass begins to melt and takes shape of the mold
The exact texture and shape the mold has, the glass will also have
Once cooled, the glass should come out the exact same shape as their molds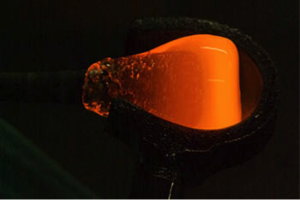 Once finished, the thermoformed glass will have the same 3d texturing as the mold with any added colors or art that was applied. The depth and texture that can be given to thermoformed glass is what gives it a unique and modern style.
Patterns as well as repeating a process are more easily done with molds already prepared, we at CGD Glass have many different molds for the textures we apply to our glass products. It is great for tiling glass, texturing glass, shaping glass, creating depth and can be considered a very high quality form of glass art.
When working with table tops and countertops, thermoformed glass can really add the modern look to any room. From adding simple designs and textures throughout the glass you can bring out some of the most amazing qualities in glass. Here at CGD glass we take pride in our wide variety of choices in textures made possible because of thermoformed glass. For example we have our "Desert", "Flow", and "Sandstorm."
Thanks to thermoforming techniques we have an endless possibility of designs we can make for our custom glass designs. These examples are just some of the beautiful pieces from our index and should give you an idea as to how thermoformed glass can give your glass the unique look you want.