March 18, 2015 | By Mark |
Glass as a countertop material is exploding in popularity.  The popularity of glass countertops has increased mostly in kitchen uses but they also have many uses in commercial and residential spaces.  Some of the most popular types of glass countertops are kitchen, raised, island, bathroom, bar, and even table tops. Below are some examples and different types of glass countertops throughout your home and some great examples of CGD's amazing designs!
Glass Kitchen Countertop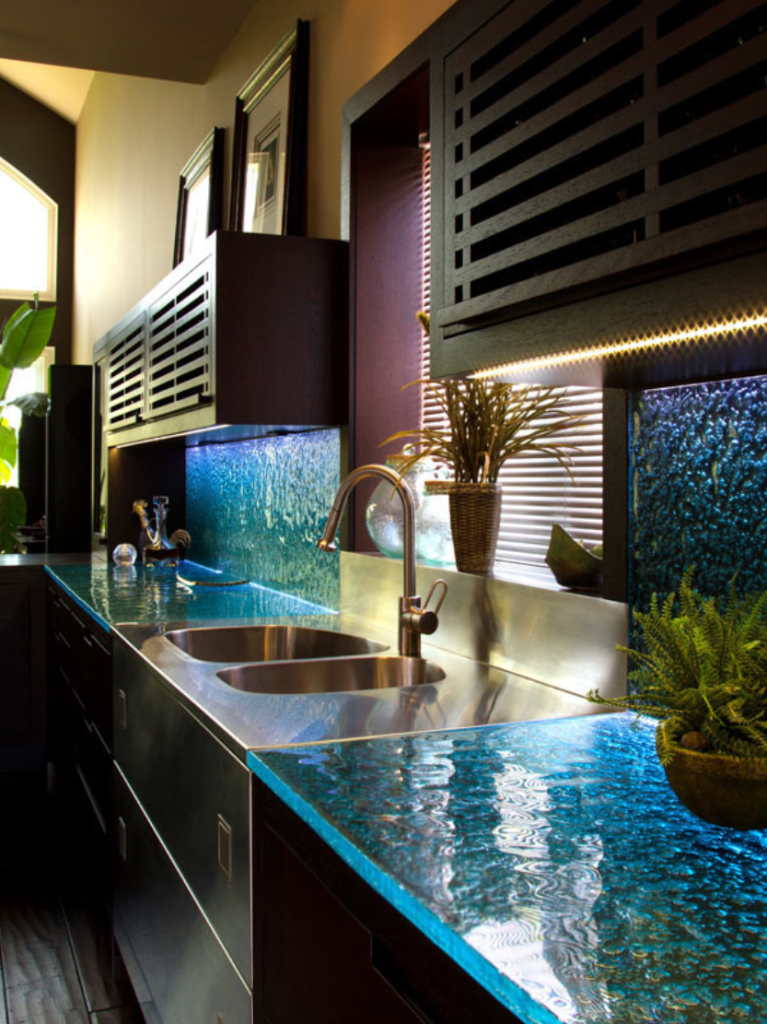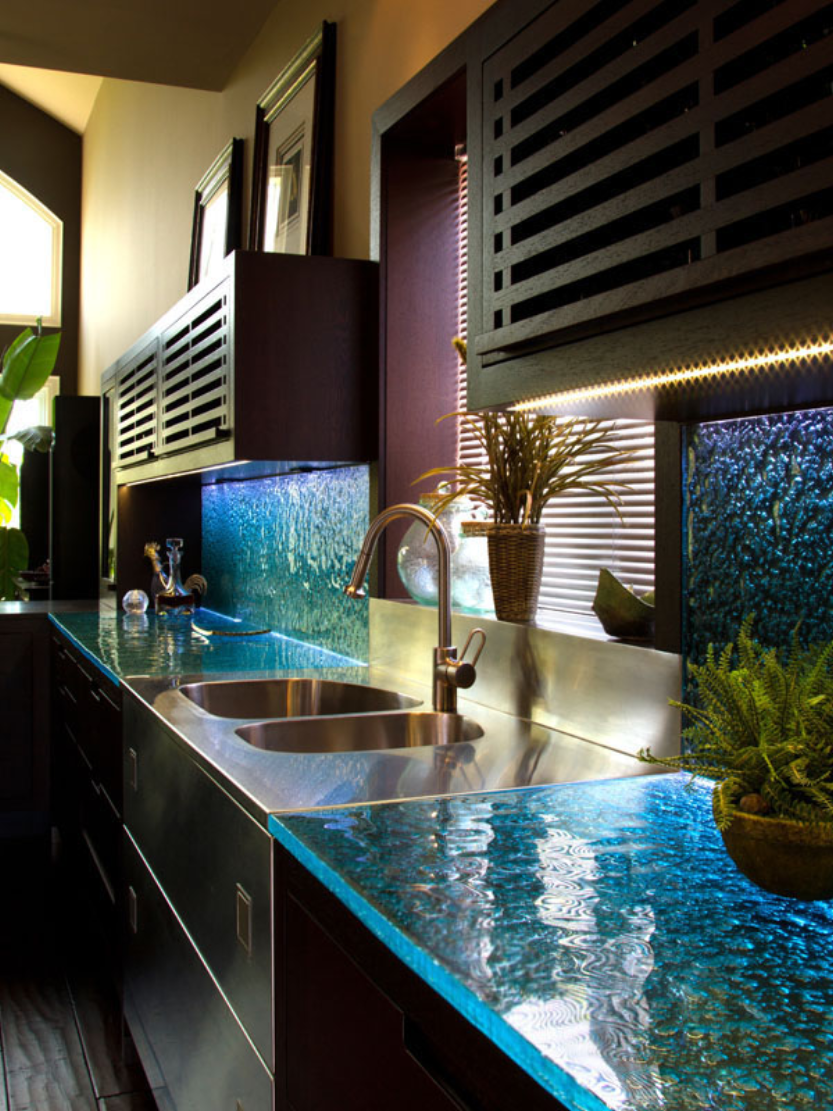 CGD's Thermoformed glass kitchen countertops are a great example of how each countertop can be uniquely designed. Our Kitchen Countertop designs can supplement your homes design and bring out some beautiful qualities around your kitchen. CGD Glass can be shaped to your wants and needs and we enjoy designing beautiful unique pieces for each of our clients. Popular for its simplicity, this piece doesn't take away from the simple design and manages to add a modern look and feel.
Raised Glass Countertop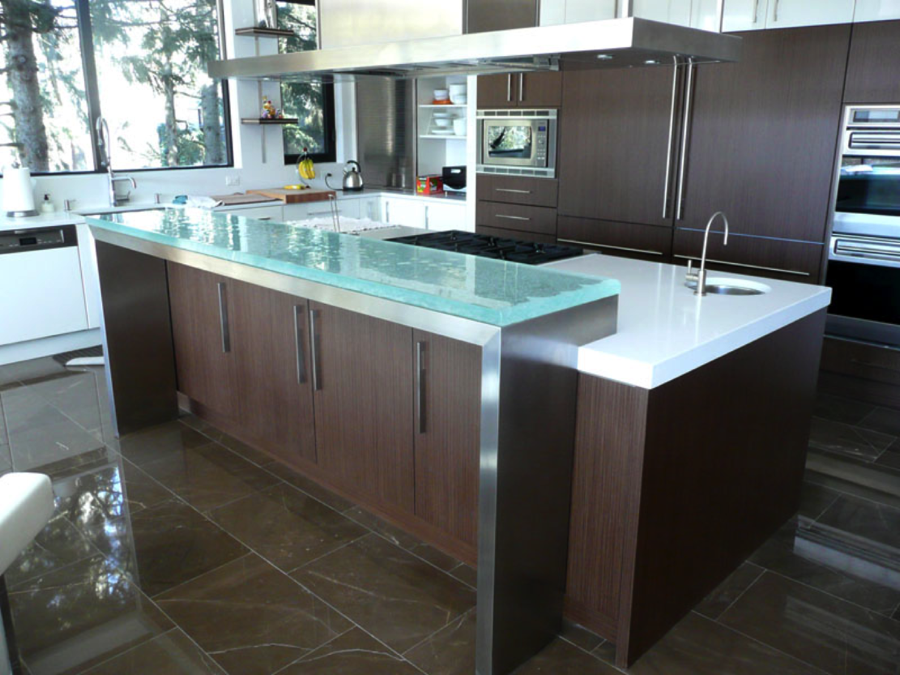 Here is an example of how beautiful a raised glass countertop may look in your home. This design adds style and class to what is just a simple countertop. Raised glass is as strong as any of our other styles and can be added to an existing countertop, regardless of material. Add contemporary style to your kitchen with a raised glass countertop, these are popular for their aesthetically pleasing design and extra table space available by extending the raised countertop further than the countertop itself.
Glass Kitchen Island Countertop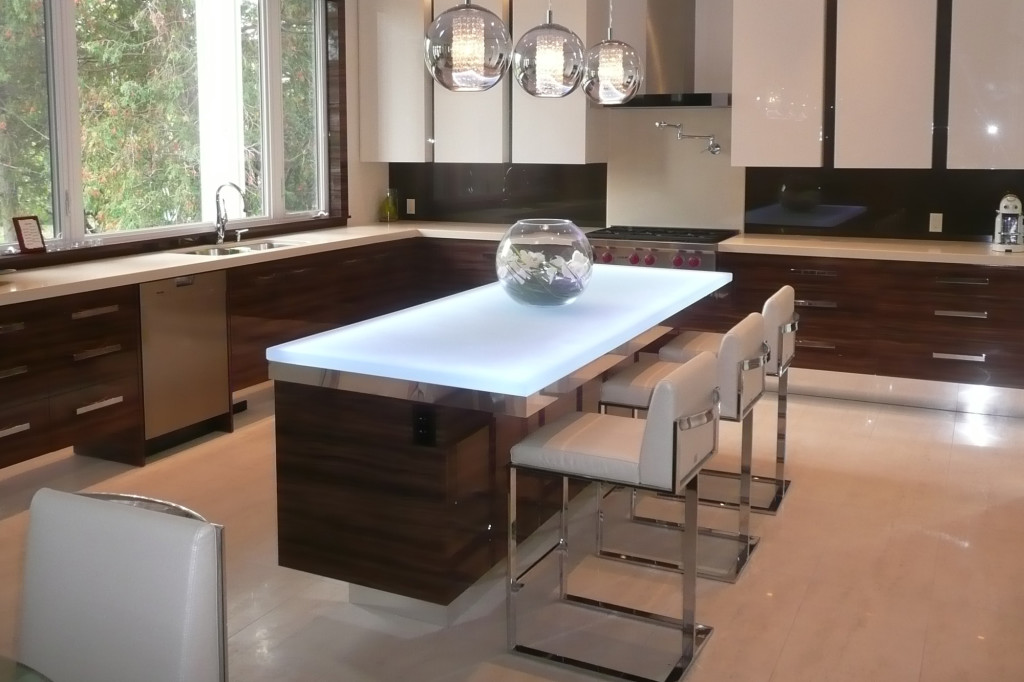 The most popular place for a glass design is the Glass Kitchen Island Countertop. Glass is an amazing material that works great for the kitchen area because it is a non-porous material that allows for easy cleaning and a sleek flat surface. The LED lights are very popular in kitchens because they emit a low light while adding a pearl white tone to your Glass Island Kitchen Countertop.
Glass Bathroom Countertop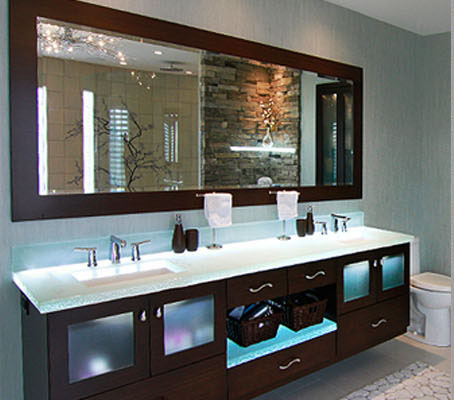 One popular way to complete your Bathroom is a wonderful Glass Countertop. Our Aqua Clear and Ultra Clear Glass are very popular in the bathroom because they add to the shower/bathroom feel. Textured glass with LED Lights is a great example of how one can add a certain look and feel to your bathroom design.
Glass Bar Countertop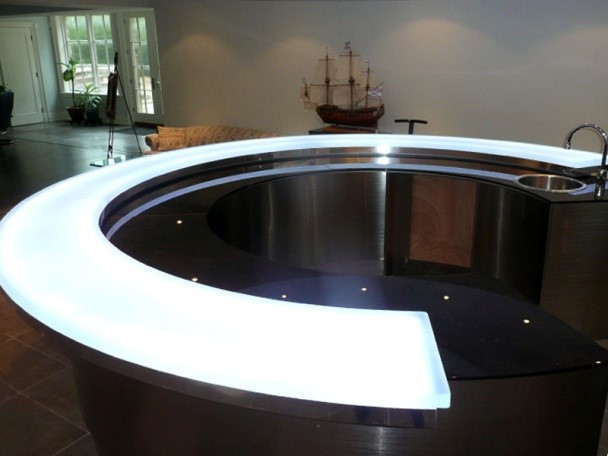 Glass bar tops are most popular in commercial projects and some larger residential projects. Glass Bar tops are typically requested for restaurants and bars, but occasionally are custom made for some larger home-based projects. Drinks will of course spill on your bar top, but having a glass bar top will make it easier to maintain as well as clean.
Glass Table-Top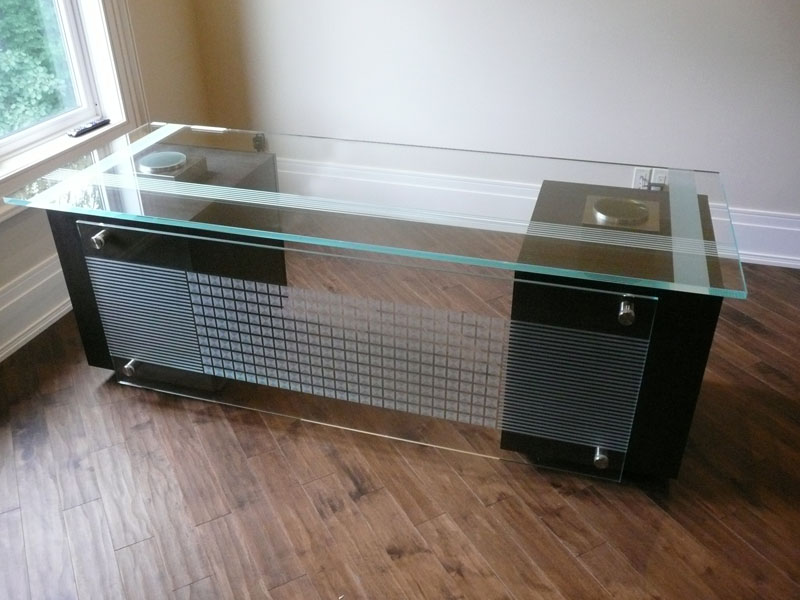 Glass table tops are most popular in your study space or work space at  home. Glass has a clean feel and allows for one to focus completely on whatever is in front of them. Whether studying, drawing, working or writing you want to have a clear space and mind to work with. Glass is the perfect table-top material for your work space and are available at CGD with nearly any customization!